Posted on the UA News Center website on September 27, 2022
During the past academic year, five professors at The University of Alabama received national recognition early in their careers for leading-edge research that will advance knowledge and enhance the educational experience.
Four professors were selected by the National Science Foundation for a CAREER Award, one of the nation's most prestigious recognition of top-performing young scientists, while another was awarded an Early Stage Investigator – Maximizing Investigators Research Award through the National Institutes of Health.
The grants allow each researcher to train and motivate a new generation of scientists and engineers not only at UA through instruction and hands-on lab work, but also through outreach efforts to schools and the community.
"We are proud to have so many young faculty recognized for their contributions," said Dr. Russell J. Mumper, vice president for research and economic development. "These awards will further their research while elevating the University's educational mission."
An NSF CAREER Award will fund projects by Dr. Daqian Jiang, assistant professor of civil, construction and environmental engineering; Dr. Matthew Kasemer, assistant professor of mechanical engineering; and Dr. Laura Morett, assistant professor of educational neuroscience and psychology; and Dr. Bulent Tosun, associate professor of mathematics.
The NSF Faculty Early Career Development, or CAREER, Program is a foundationwide activity offering the most prestigious awards in support of early-career faculty with the potential to serve as academic role models in research and education and to lead advances in the mission of their department or organization.
Currently, 35 UA faculty from disciplines across campus received NSF CAREER Awards during their tenure.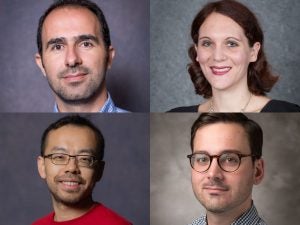 Using Bacteria to Test for a Virus
Dr. Jack Dunkle, associate professor of chemistry and biochemistry, received NIH funding from a program within National Institute for General Medical Sciences. It is designed to provide support for research in an early-stage investigator's laboratory as well as flexibility to follow new research directions and encourage high impact rather than incremental research.
Dunkle is the second professor at UA to receive this award after Dr. Ayanjeet Ghosh, assistant professor of chemistry and biochemistry, was awarded funding in 2020.
Kickstarted through the University's Joint Institute Pandemic Pilot Project, Dunkle's lab is investigating how to use a bacteria's immune system known as CRISPR-Cas, which are sequences of genetic code inside bacteria that store information on invading viruses, as a low-cost, point-of-care diagnostics test for viruses such as the coronavirus that causes COVID-19. An application could be an alternative diagnostic test through a smartphone app to detect a color change in the sample instead of the labor-intensive test with expensive lab equipment.
Estimating the Threat of Forever Chemicals
For his CAREER Award, Jiang will develop modeling and system analysis tools to gain a better understanding of how a class of human-made chemicals used in common consumer and industrial products can damage the environment and human health over the product's life cycle. One of the most stable chemicals ever produced, per- and polyfluoroalkyl substances, or PFAS, have been found in the blood of people and animals, raising concerns about their toxic effects. Their ubiquity, though, creates a challenge in understanding the scope of potential damage. Jiang's group will estimate the threat through data collection and modeling and provide techniques to operationally improve risk assessment and policy decisions.
Predicting When Materials Will Fail
Kasemer's CAREER Award supports research into complex microscopic mechanical behavior of high-strength metals using state-of-the-art experimental and computational techniques. The work aims to increase the fundamental understanding of how and why these materials fail. This is especially important as aircraft and automotive industries strive to make lighter vehicles to reduce fuel use and emissions while also maintaining safety. Kasemer's lab will develop open-source software capable of predicting failure in materials used in machine components, and instructional workshops will be held to instruct users on software usage.
A Small Gesture, A Big Impact
The first professor in the College of Education to receive a CAREER Award, Morett plans to use her grant to understand hand gestures' impact on learning to help bridge the gap between educational neuroscience research and teaching. Her group will examine how gestures help a person learn a second language. The team will determine how information is conveyed with gestures along with speaking, characterize how the learner receives that information and identify how brain regions used in language processing are affected by observing the gestures as part of learning. Though focused on learning a second language, the findings could have broad implications on how gestures can be used to enhance teaching in many areas.
The Shape of Spaces
In another CAREER Award milestone for the campus, Tosun is the first professor in the UA Department of Mathematics to receive this award. The funding will support approaching solutions to existing complex geometric conjectures and questions that could provide insight into the structure and shape of the universe. The work is within the mathematical field of topology, the study of the shape of different spaces, and Tosun will examine the topology of specific natural spaces called smooth manifolds, of which the universe is classified. He plans to introduce certain complex analytic structures on manifolds to answer questions about the intersection of symplectic and contact topology and smooth manifold topology in low dimensions and complex geometry.
The University of Alabama, part of The University of Alabama System, is the state's flagship university. UA shapes a better world through its teaching, research and service. With a global reputation for excellence, UA provides an inclusive, forward-thinking environment and nearly 200 degree programs on a beautiful, student-centered campus. A leader in cutting-edge research, UA advances discovery, creative inquiry and knowledge through more than 30 research centers. As the state's largest higher education institution, UA drives economic growth in Alabama and beyond.